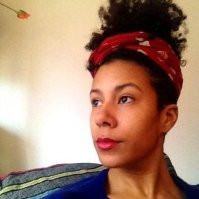 Magnificent maker
2 brought to life
Skills:Soft prop and object prototyping. Leather work. Patterncutting and garment construction. Paper cutting and modelling. Hat making. Fine metalwork. Illustration
Izi is a leather worker and costume fabricator based in South London. She tackles a broad range of projects from antique leather restoring to futuristic sportswear prototypes.
Recent project reports
Lights at night
Testing the Love heart jacket out and about at night time.
Shine bright like a love heart
Finished love heart jacket. Hearts attached with stitching and Velcro on front and back. New heart shape hood looking great in day and night!
Heart shaped hood
Stitching the hood into a heart shape. Making a new red heart hood section with lights and hi-vis piping