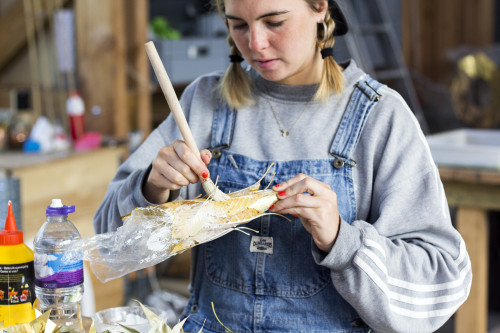 Magnificent maker
2 brought to life
I am a designer with a focus on ideas. I like to find inspiration in nature and organic forms and my process is led by making and experimentation. My past studies in Art and Design at Falmouth University gave me a freedom in my creativity and I like to experiment in a wide variety of materials.
Recent project reports
The Finished Bicycle
I have finally added the finishing touches to Jessica's Balloon Bike, including the fairy lights, basket and water bottle. I may have added a few extra lights because they looked so pretty!
Putting the Bike Back Together!
After all of the paint was dry we had to reassemble the bike. Accidentally put the mud guards on the wrong way round but all looking great now and ready for the addition of the balloon. We have added a bike rack to make attaching the balloon easier!
Spraying the Bike
So... I tried to find a red bicycle to match Jessica's design but sadly I could not and so I have bought a lovely white bike which I have then sanded down and sprayed red. I think it will look great when I manage to put it all back together and remove all of the masking tape!