Chloe Rodham
Newcastle Upon Tyne

,

Northumberland

,

U.K.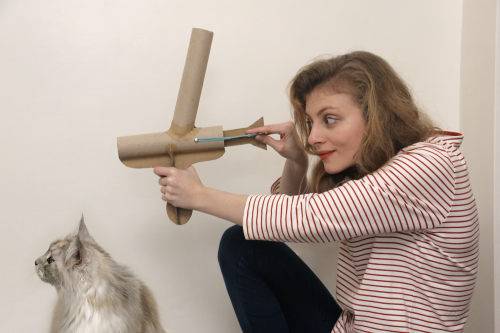 Magnificent maker
4 made real
4 working on
I'm an animator and model-maker based in Northumberland. I combine digital animation techniques with more traditional methods like stop motion. I enjoy sharing my skills with others - I'm an Associate Lecturer at Northumbria University and an animation mentor with TICE - introducing children to what it is like working in creative industries.
Recent project reports
The Animation
The finished animation complete with voice over and sound effects. Thanks to Opal, Lola and Anna! What a great collaboration!
(Sound effects from Zapsplat)
The Finished Model
The model of Band 101 with the ISS, ready for display.
Voice over and sound effects
While I was still working on the animation, during our Skype chat Opal agreed to doing a voice over for the animation piece as if the astronauts in the ISS were talking to each other. I gave Opal a rough script and she added her own spin on it recording it with her friend Lola. It seems like they had fun doing the recording! Opal's mum also offered to add some sound effects into the mix, she used sound effects from Zapsplat and compiled the sounds together in an application called Camtasia.